About the School of Art & Art History in Chicago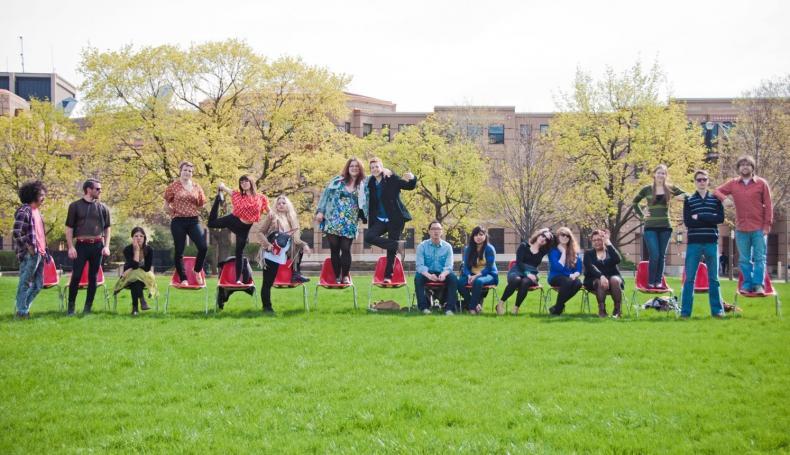 Undergraduate Thesis Group Photo
Unleash Your Radical Imagination
The School of Art & Art History at the University of Illinois Chicago comprises of artists, scholars, museum workers, educators, and researchers, all thriving within one of the nation's most diverse public research university. We empower students in the making, experience, study, and interpretation of art, art history, and contemporary culture and prepare them for a professional life of interdisciplinary practice. Affirming that humanity survives and advances through radical imagination and the arts, we educate our students to rigorously engage in art's vibrant corollaries: dialogue, critique, experimentation, and social justice.
The School of Art & Art History was founded on the principle that history, theory and practice are intimately entwined endeavors. Our programs ignite intellectual curiosity and creative innovation, and empower students to expand the boundaries of what is possible, making an impact on the world.
---
Art students are encouraged to work across the media-specific disciplines of studio arts, photography, moving image, and new media and actively engage departments across the university as well as the larger cosmopolitan city of Chicago. Faculty are equally committed to their research, practice and teaching, and foster an intense intellectual and creative environment where individual research and studio work are complemented by collaborative efforts and socially relevant public projects and civic engagement. We offer a BFA, a Minor in Art, and a MFA.  
Art History students critically inquire into the ways in which people have reimagined their worlds through art, architecture, photography, film, performance, and design. Students are prepared in the fundamentals of historical analysis, visual literacy, and theoretical understanding. Classes span all historical periods and most of the world's cultures. The department offers a BA, MA, and PhD.
The Museum and Exhibition Studies program focuses on the social and political contexts of cultural institutions with an emphasis on social justice. The program offers a MA. Undergraduates can also earn a Minor in Museum and Exhibition Studies.
The Interdisciplinary Education in the Arts major provides an opportunity for students interested in intermedia, multimedia and across-college practice and history. The program offers a BFA.
The School of Art & Art History is also home to the revitalized Art Education program. The program provides the requirements for Illinois State teacher licensure and the experiences needed for students to become art teachers in Chicago's diverse public schools and communities.
Gallery 400, a contemporary art gallery is an important resource for our students that provides culturally transformative experiences through exhibitions and by bringing world-class artists, activists, writers, and scholars to the School.