BFA Program at UIC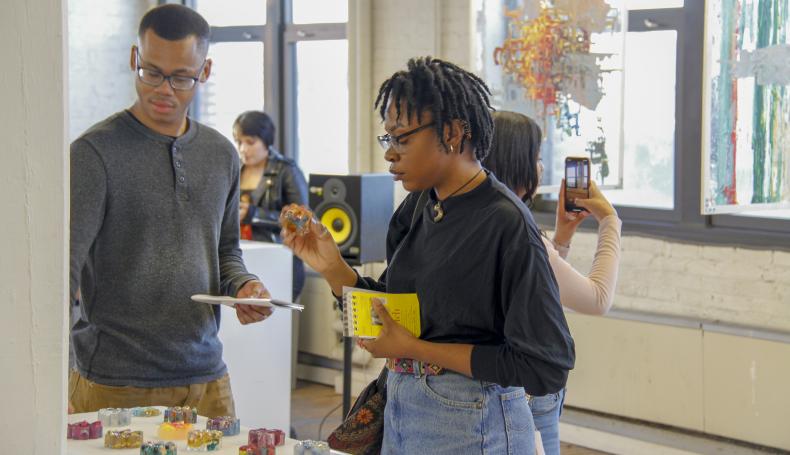 Explore the social, conceptual, and aesthetic possibilities of art
The School of Art & Art History prepares students to enrich and transform the world through their creativity and vision. Students are encouraged to immerse themselves in an interdisciplinary program that explores the social, conceptual, and aesthetic possibilities of art. Central to UIC's approach are studio courses with internationally renowned faculty that engage students in independent research and encourage the development of significant creative work. Studio courses utilize an array of media, including drawing, painting, photography, moving image, new media arts, performance, and sculpture. In addition to studio courses, students participate in seminars that interrogate the practice and theory of contemporary art.
The first year Art Foundation program introduces students to a wide range of possibilities for creative expression and problem solving. After completion of the first year program, students participate in an all-school portfolio review to gain acceptance into the art major.
The Art major is designed to offer an interdisciplinary experience that mirrors contemporary cross-media art practices. Art majors have the flexibility to choose to concentrate in one of four areas (New Media Arts, Moving Image, Photography, and Studio Arts) or steadily pursue coursework in all media throughout their four years. As part of the four-year program, Art majors are required to take 22 hours of General Education courses as well as 20 hours of Art History courses. Before graduating, each student will produce and document a final BFA thesis exhibition.
To earn a Bachelor of Fine Arts in Art degree from UIC, students need to complete University, college, and school degree requirements. The Art Degree requirements are outlined below. Students should consult the College of Architecture, Design, and the Arts section for additional degree requirements and college academic policies. 
A portfolio review is required prior to acceptance as an Art major. 
BFA in Art Requirements 
Hours
First Year Program
24
General Education and Foundation Courses
33
Art Major Requirements
61
Electives outside the Department of Art
10–11
CC 120—UIC First Year Dialogue Seminar
(Required of new freshmen only)
1*
Total Hours—BFA in Art
129
*New freshmen are required to complete CC 120—First Year Dialogue Seminar for one hour. These students will complete 10 hours of electives for the BFA in Art. All other students complete 11 hours of electives for the BFA in Art.
A complete sample course schedule for a BFA may be found here » 
Laptop Requirements 2021-22 
The software packages that are used by students in the BFA program at UIC will require computing power that exceeds most standard laptop recommendations at UIC. Software required for in-class use will vary over time and with course curricula. The following specifications for your computer will be sufficient for the required software packages. Below is a list of general laptop computer requirements for students entering - and continuing - their studies in the Department of Art. 
Items required at the start of the Fall 2021 academic year: 
Laptop: Mac or PC (please see below) 
Three Button Mouse (wireless or wired are both acceptable) 
Minimum Laptop Specifications: 
Windows:
Intel® 7th Gen or newer CPU – or AMD Ryzen™ 3000 Series or newer CPU
Microsoft Windows 10 (64-bit) version 1809 or later 
16 GB of RAM 
4 GB of GPU VRAM 
Fast internal SSD Hard Drive for app installation and cache, at least 256GB
A 3-year warranty 
Mac:
Intel® 6thGen or newer CPU 
macOS v10.14 or later 
16 GB of RAM for HD media 
4 GB of GPU VRAM 
Fast internal SSD Hard Drive for app installation and cache, at least 256GB
A 3-year warranty