BFA in Art Education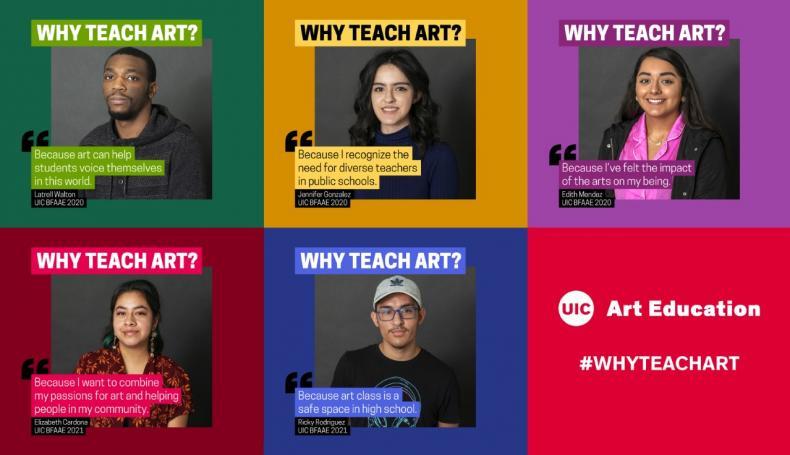 The BFA in Art Education program is currently accepting applications to the 2020-21 Pre-Art Education cohort. Deadline: April 3rd, 2020.
Please submit the following materials:
2) Portfolio
3) Writing Sample/Essay (1-2 pages)
     Essay prompt: Why do you want to become a high school art teacher? 
4) Your Current Resume
Find more information about the BFA in Art Education program and Portfolio Guidelines below.
The BFA in Art Education program provides the requirements for Illinois State teacher licensure and the experiences needed for students to become effective teachers/artists/researchers at the high school level including Chicago's diverse public schools and communities. The program cultivates the study and making of art in a variety of ways that are rooted in local cultures and histories of activism and democratic participation in the public sphere. BFA in Art Education students will develop their own artistic practice and consider how a rigorous process of art making can be shared with their students. 
The BFA in Art Education curriculum is based in the understanding that an engaged and engaging art education links students' life experiences to experiences of traditional and contemporary art, media, and cultural forms. In addition to studio courses, seminars on the practice and theory of art education foster an awareness of collaborative strategies of teaching, learning, and art making. Student teachers gain rich experience and mentorship working with licensed art teachers in Chicago Public Schools. 
As the only public university in the city of Chicago offering a dedicated pathway into high school art teaching, UIC's BFA in Art Education program is committed to creating models of art education curriculum that address inequality and open pathways for students to analyze and create contemporary culture.
Upon completion of the BFA in Art Education program requirements, students will be prepared to apply for the the Illinois Professional Educator License endorsed in visual arts for grades 9 through 12 needed to teach high school art.
Questions about the BFA in Art Education program? Please email us at 
arted@uic.edu
Find out more about the program in our BFA in Art Education handbook.
UIC Council on Teacher Education (CTE)
The CTE oversees the programs that prepare students for licensure in pre-kindergarten through twelfth grade school settings by the
Illinois State Board of Education
.
All University of Illinois at Chicago students pursuing Educator Preparation Programs are required to complete academic and non-academic requirements. For more information, visit the
CTE Milestones
Portfolio Guidelines for Pre-Art Education and the BFA in Art Education
We are looking at whether you are developing the artistic range necessary to be a dynamic, engaging high school teacher who can teach a range of media and contemporary skills. For instance, if you are primarily a painter, you will want to show examples of your paintings AND your work in photography and/or digital media. We are also looking at your ability to articulate what your art practice is about. What themes and/or issues are you exploring? What personal, social, and/or cultural connections are you making? What do you want other people to see or experience in your work?
In your portfolio, include examples of your abilities in at least three of the following areas: drawing, painting, sculpture, printmaking, photography, digital media, time-based work, performance, artist- in-residence, etc. Please plan to include examples of artworks you created in your UIC courses. You are also welcome to show examples of your creative practice outside of your course work, such as pages from artist journals, zines, or protest signs. Examples of your creative practice on social media can include blogging, creating Snapchat Geofilters, developing code, and/or curating YouTube channels or Instagram feeds.
Present a portfolio that shows depth as well as breadth of knowledge.
​Include samples showing your full range of art making skills and your conceptual focus. 
We want to see more than just a demonstration of skills in various areas. We are assessing the depth of your understanding of committed, contemporary artistic practice. We also want to see examples of artworks that demonstrate your ability to investigate significant themes and ideas that matter to you. Examples should demonstrate how you are making personal and cultural connections through your art making practice; for instance, works that touch on cultural heritage or contemporary social issues. If applicable, you may include documentation of art education projects you have been involved with in public space, or in schools or communities.
What do we mean by contemporary art? 
Contemporary art is art that is made by artists and cultural producers who are living and working in the 21st C. Using a variety of materials, sources, influences, and methods, contemporary artists explore issues in culture and society, asking urgent questions such as: Whose voices, realities, and/or histories are being represented? Who or what is being left out, and what purpose does this serve? What alternative versions and practices are possible and necessary? Contemporary artists work in the studio, in public spaces, and in collaboration with communities, both locally and globally. For viewers and audiences, contemporary art is a place to make personal and cultural connections, and to question and expand our familiar ways of seeing and knowing.
Content of Digital portfolio for Pre-Art Education Program 
10—15 examples of recent artwork by the applicant
Artwork in at least three different media, including drawing, painting, design, sculpture,
photography, digital art making, and/or time-based work.
Numbered printout giving information about each artwork—size, medium, date, title and description.
Your descriptions of each artwork should address the following questions: What is this artwork about? What are the themes? In what context was this work created? Is this an individual artwork, or part of a larger body of work?
Acceptable formats: Acrobat PDF. Format of Digital Portfolio - no actual artworks, slides or other formats will be accepted .
All time-based works must be Quicktime (.mov) files. The committee will review up to 2 minutes of time-based work
Organize the portfolio presentation clearly. Use text slides or captions to identify yourself and to give information about titles, media, scale, etc.
Present your work professionally 
You may submit up to 30 images. (15 pieces with some details)
Do not submit numerous views or details of the same artwork that do not add significant new information or insight.
Your presentation should be concise and focused.
Present your work clearly, neatly, and in an aesthetically pleasing way.
Do not include images that are dark and out of focus.
Criteria for review of portfolio - students must demonstrate the following: 
Ability to use technical skills at least three different media 
Understanding of contemporary art practices demonstrated in artwork
Ability to explore personally and/or socially meaningful content
Capacity for sustained artistic investigation
Ability in digital media
Awareness of audience, messaging, and possible interpretations of your work
Demonstrated ability to create a technically proficient, organized portfolio presentation
Ability to articulate ideas and experiences that relate to becoming a teacher (in essays)