The Arts and Responsive Computing program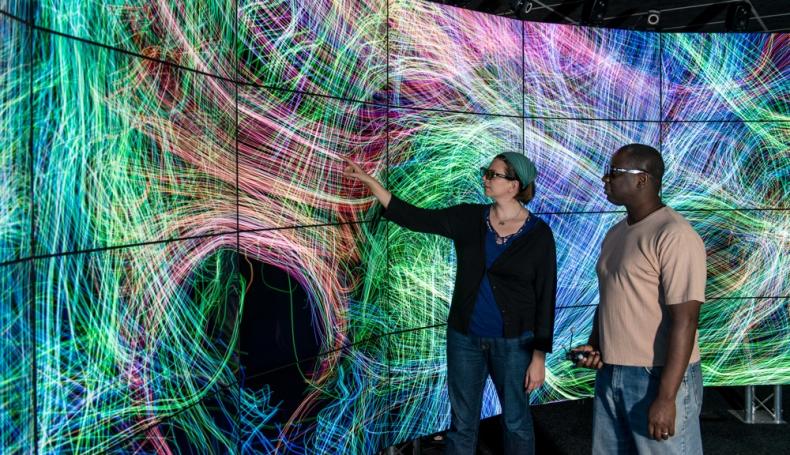 The Arts and Responsive Computing (ARC) program is the first Joint MS/MFA degree in the United States to offer an integrated arts + computing curriculum, culminating in a Masters in Computer Science and a terminal Masters of Fine Arts in New Media Arts.
The ARC joint degree gives students the opportunity to complete both the MS and the MFA degrees in three years. In this accelerated program, a student will fulfill all of the requirements for both degrees through taking a mixture of the existing courses from both departments over
six semesters, and also complete a thesis project that has a strong technical and creative focus.
Students who complete the Joint Program will be well prepared for interdisciplinary careers in the arts, including interactive media, human-centered computing, and other emerging fields that involve the creative application of new technologies.
Students have the opportunity to take a range of human-centered computing and new media arts courses from the Department of Computer Science and Department of Art. Additionally, students are required to take advising courses to work both one-on-one with selected Arts faculty and also alongside their peers to develop a rigorous studio practice.
CS 522: Human-Computer Interaction
CS 523: Multimedia Systems
CS 524: Visualization and Visual Analytics 2
CS 525: Advanced Graphics Processor Programming
CS 526: Computer Graphics 2
CS 527: Computer Animation
CS 528: Virtual Reality
CS 422: User Interface Design and Programming
CS 424: Visualization and Visual Analytics 1
CS 425: Computer Graphics 1
CS 426: Video Game Design and Development
ART 509: Advanced New Media Arts
ART 520: Seminar in Contemporary Theory
ART 530: Advanced Graduate Critique
ART 452: Information Aesthetics 1
ART 453: Information Aesthetics 2
ART 454: 3D Space 1: Modeling
ART 455: 3D Space 2: Animation
ART 456: Embedded Media: Physical Computing
ART 457: Interactive 3D Media
ART 480: Independent Study in Art
AH 460: Topics in Modern and Contemporary Art
Graduate Advising Faculty:
Art
CS
Students must apply to both the MFA program in Art and the MS program in Computer Science. In your cover letter for both applications, indicate your interest in the Joint Program in Art and CS.